Join our Affiliate Program Today (T&C apply)! You send us Business; we give you money, click Here for more info.
Hard & Half Boiled Egg Machine 2 in 1 Egg Machine Commercial Egg 50pcs
Extended Warranty – Customer can extend 3-month warranty
After Sales Service – We do provide spare part and maintenance service
Free Training – Free training provided for our customer who bought any machine from us
NOTE!!
- MAXIMUM 1 UNIT PER ORDER only
- If you want to buy 2 units or want to buy different item, PLEASE MAKE SEPARATE ORDER. (1 UNIT = 1 ORDER)
Hard & Half Boiled Egg Machine 2 in 1 Egg Machine Commercial Egg 50pcs
Mode l: FNP-384
Voltage : 220V
Power : 2600W
Frequency : 50 – 60hz
Capacity : MAX 50 eggs (depend on egg size)
Machine Size:-
Width: 22.5cm
Length: 33.5cm
Height: 31cm
Weight: 5kg
Inside size :-
30 x 23.5 x 15cm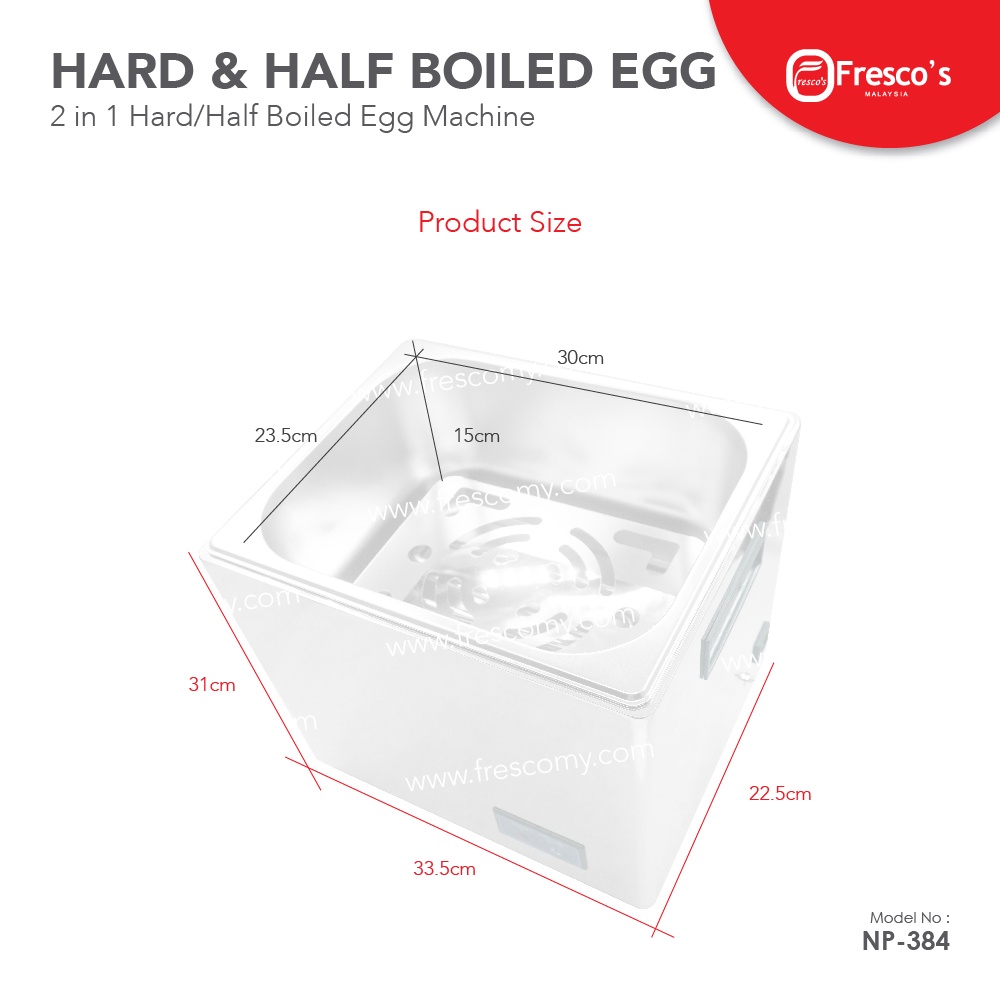 Fresco Malaysia
✅ Ready Stock Kuala Lumpur, Malaysia
✅ Fresco Malaysia Company 10 years in market
✅ Boleh datang kedai untuk test barang (We have Showroom)
Fresco Malaysia 62-1, Jalan Metro Pudu 2, Fraser Business Park, 55100 Off Jalan Yew, Kuala Lumpur
✅ Warranty 6 months for Machinery
✅ Ada ready spare parts
✅ Ada Maintenance Team for after sales service
✅ 100% Quality Product
We are committed to providing you with a convenient and good service experience, as well as, better value at Fresco store
Start a Conversation
Hi! Click one of our member below to chat on WhatsApp
The team typically replies in a few minutes.